PROFILE GRINDING
Here is a small overview of our PROFILE GRINDING machines:
UPZ NC II
NC-controlled surface & profile grinding machine
With a grinding length of 400 – 500 mm and a cross travel of 200 – 250
mm the Okamoto UPZ NCII Series is ideally suited for the toolroom. It
features a high level of standard equipment to ensure easy handling,
quick and precise small part production. The robust cast iron construction
and double-V slideways in both table and crossfeed ensure long term precision.
The intuitive operation of the controls simplifies usage and increases
productivity considerably.
FANUC 0i control
"Teach-in process"
Scale-Feed-Back for the Z axis
Temperature-stabilized grinding spindle head
UPZ 52Li
Ultra Precision surface and profile grinding machine
This high speed grinding machine has a length capacity of 500 x 200mm width and is suitable for use in the toolroom or in a production environment. The stable design of the wheel head and slideways with linear guideways in both the table and cross slides guarantee the highest precision over a long time. The easy to use software in the machine control simplifies programming and increases production.
Table drive via linear motor
Workpiece measuring system
CCD-Camera
High speed reciprocation up to 500/min
Temperature stabilised wheelhead
UPZ 210 Li/LiII
Precision CNC fast reciprocation profile grinding machine with linear motor drive.
With a machine weight of 5700 kg this machine offers the basis of a low vibration ultra precision profile grinding machine. High precision linear guideways and optional hydrostatic ways are paired with a linear motor drive for the table that allows a table oscillation speed of up to 250 reciprocations in each direction per minute. The machine is equipped with two independent wheel heads mounted on precision linear guideways positioned with linear motors. the twin wheel head can be utilised for roughing and finish grinding or for grinding both left and right sides of a profile in one operation. When combined with an optional CCD measuring camera, it is able to automatically measure and optionally compensate any eventual error to guarantee a perfect component in a single operation without operator intervention.
CNC Fast Resiprocation grinding machine with linear motor drives
Available in single spindle wheel head and double spindle wheel head variations
Carbide grinding with 520 oscillations per minute
Rough grinding, fine grinding, measuring, with automatic compensation in one loading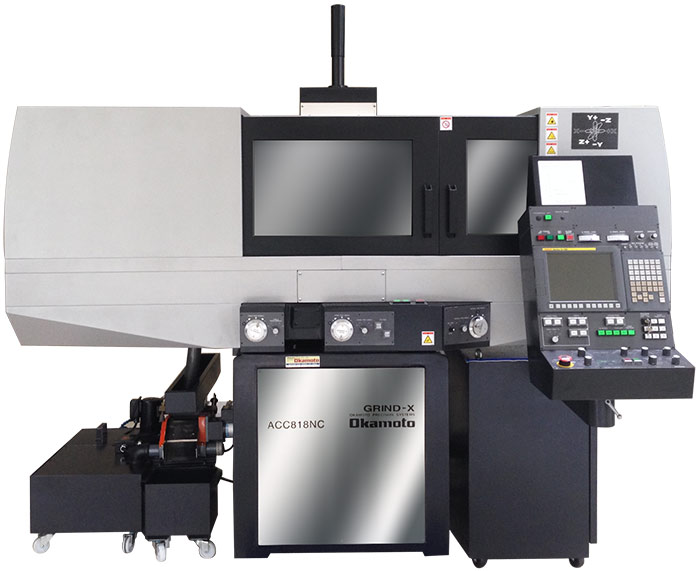 ACC 818 NC
Endless challenge to Zero
Simply the best CNC profile grinding machine developed from our long experience in the grinding machine market. The advantages are manifold: Compact Moving Saddle Design, Fanuc CNC Control with dialogue software, 1/10 Micron AC Servo Motors, Fully Automatie Grind Cycle, automatie profile wheel dressing with Compensation, for the purpose of long lifetime and maintenance free operation, oil lubrication with automatic lubrication is applied to the guide and slide way, combination of both scraped V-V slide way and low friction Turcite assure accurate grinding for life, all castings exhibit high static and dynamic stiffness and excellent damping qualities.
Grinding wheel (2O5 x 13 x 31.75 mm)
Grinding wheel adaptor for wheels
Levelling screws and plates
Necessary Tools
Worklight